GARDEN ANSWERS - KEW BEST ANGLED CUTTERS
Geoff Hodge of Garden News has chosen the Spear & Jackson Kew Gardens Garden Snips as 'Best Angled Cutters' in the 4th May 2013 edition of Garden News.
The Garden Snips are part of the new Kew Collection by Spear & Jackson.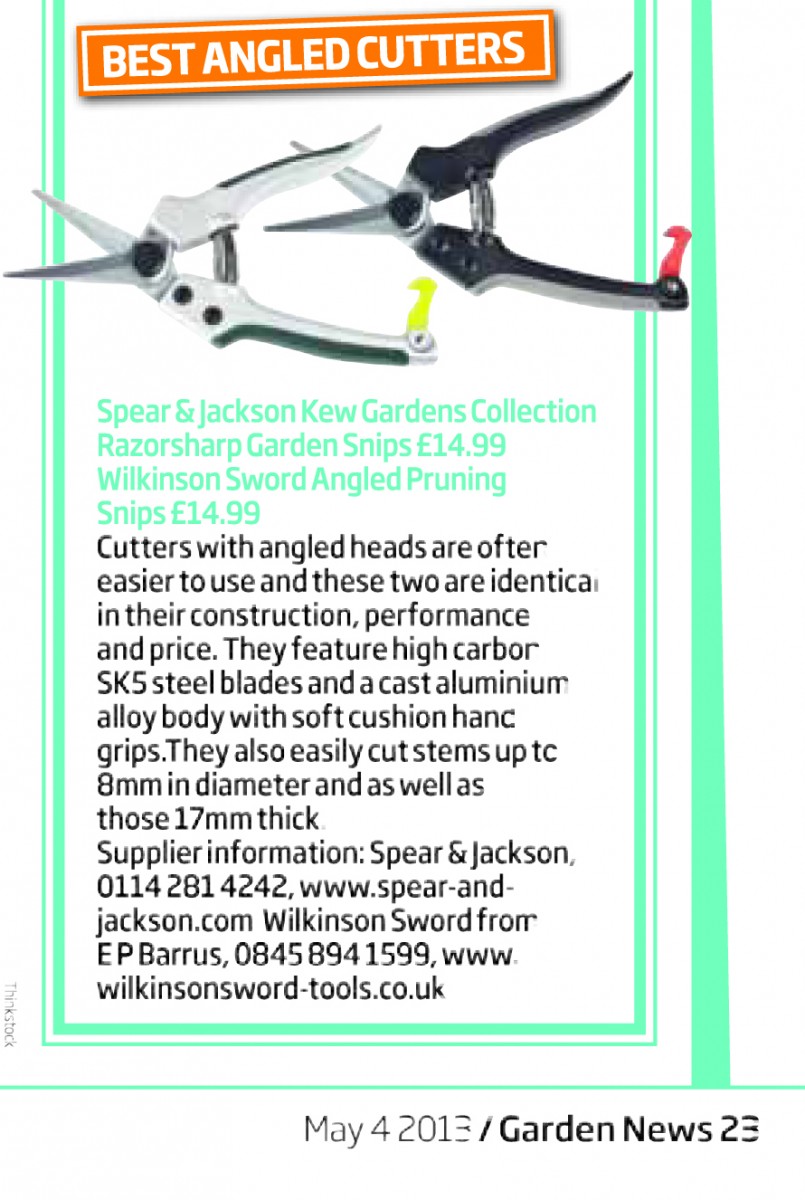 The Kew Gardens Collection includes an extensive selection of new digging, cutting and cultivating tools. The Collection's Neverbend Carbon range features solid forged spades & forks for extra strength and all lines are finished with a hammer-finished epoxy coating, for improved resistance to rust humidity and soil alkali. The Neverbend Stainless range features mirror-polished heads that slip easily through soil, are resistant to rust and are easy to clean. And the Razorsharp Garden Cutting range includes a wide selection of high performance secateurs, shears and loppers.
All wood used in the Kew Gardens Collection is sourced from well-managed forests approved by the Forest Stewardship Council (FSC).

Each product in the Kew Gardens Collection comes in premium, dual-branded packaging, including a swing tag that features the Kew Gardens seal. Striking new floor-standing merchandise displays are made from FSC-approved timber and feature Greg Redwood, Head of Great Glasshouses and Horticultural Training, Royal Botanic Gardens Kew, personal endorsement.


The Kew Gardens Collection is exclusive to garden centres and Kew Gardens shops.
For more information visit www.spear-and-jackson.com. Local stockist information is available by calling Spear & Jackson on 0114 281 4242.