Tresham's Electrical Students of the Year
Congratulations to Alex Puckovs and Daniel Brown Tresham's Electrical Students of the Year 2013.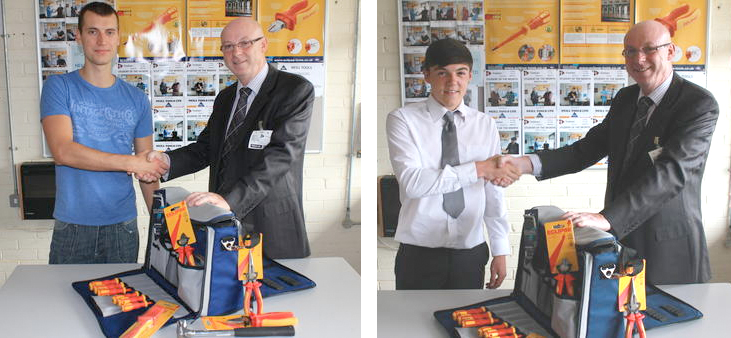 Alex and Daniel were chosen by the electrical department based on time keeping, behaviour, enthusiasm, improvement, peer support and work achieved. Mike Pollard of Spear & Jackson UK Ltd presented Alex and Daniel with toolkits which S&J donated to the well deserved students.
Mike made a visit to Wellingborough in 2011 where he offered S&J sponsorship to the 1st year full time Wellingborough and Corby students, throughout the academic year, with a pair of electrical snips (retail approx. £30). These were presented to the electrical student of the month by the Electrical Department, with a full toolkit (retail approx. £217) being presented to our selected students of the year.
Tresham's Electrical Department feel that it is a good way to reward the students who show commitment to their education in their chosen field. To date, this has been received with enthusiasm and has, in many instances, improved and set challenges within the groups to see who the next winner will be.
Well done to all the students and we look forward to working with you in the next academic year!